Description
Complete monitoring system for the automatic, continuous measurement of total organic carbon (TOC) in pure and high purity water.
Monitor AMI LineTOC
Complete system mounted on stainless steel mounting panel:
- Transmitter AMI LineTOC in a rugged alumi-num enclosure (IP 66).
- Analyzing unit with reagent free UV oxidation , two high precision two-wire conductivity elec-trodes made of stainless steel with integrated NTC temperature probe for automatic tempera-ture compensation.
- 3-Channel Peristaltic pump with automatic di-lution of standard solution (performance check).
- Grab sample measurement
- Continuous sample flow detection.
- Factory tested, ready for installation and opera-tion.
Specifications:
- Measurement range: TOC: 0 to 1'000 ppb
- System suitability test according to USP<643>.
- Big backlit LC display for the reading of measur-ing value, sample temperature, sample flow, temperature compensation type and operating status.
- Easy user menus in English, German, French and Spanish. Simple programming of all param-eters by keypad.
- Electronic record of major process events and calibration data.
- Data logger for 1'500 data records stored at a selectable interval. (Data download to PC re-quires optional HyperTerminal interface).
- Programmable, automatic sensor check (verifi-cation) using concentrated, durable standard and internal dilution.
- Two current outputs (0/4 - 20 mA) for measured
Options:
- Communication interface ().
- Inlet Pressure Regulator.
TOC Measurement :
Analyzing method; reagent free UV oxi-dation, differential conductivity.
Reaction time <2 min.
Swansensor TOCON with integrated NT5K temperature sensor.
UV Emitter
Lifetime 6 months depending on application: up to 12 months
Power 11 W
Measuring range
*Resolution
0.1 to 1'000 ppb TOC => 0.1 ppb
*Reproducibility
0.1 to 50 ppb => ± 1 ppb
50 to 1'000 ppb => ± 2 %
*Precision
0.055 to 2 µs/cm (20°C) +- 2%
Periodic accuracy test with ultra high pre-cision resistors.
Automatic sensor check (verification) us-ing concentrated, durable standard and internal dilution.
System Suitability Test according to USP<643> and Ph.Eur.2.2.44.
Automatic Temperature compensation
Sample flow detection.
Transmitter Specifications and Functionality :
- Electronics case: Cast aluminum
- Protection degree: IP 66 / NEMA 4X
- Display: backlit LCD, 75 x 45 mm
- Electrical connectors: screw clamps
- Dimensions: 180 x 140 x 70 mm
- Weight: 1.5 kg
- Ambient temperature: -10 to +50°C
- Humidity: 10 - 90% rel., non condensing
Power supply
Voltage: 100 - 240 VAC (? 10%), 50 /60 Hz (? 5%)
Power consumption: max. 36 W
Operation
Easy operation based on separate men-us for "Messages", "Diagnostics", "Maintenance", "Operation" and "Installa-tion". User menus in English, German, French and Spanish.
Separate menu specific password protec-tion.
Display of process value, alarm status and time during operation.
Storage of event log, alarm log and cali-bration history.
Storage of the last 1'500 data records in logger with selectable time interval (not suitable for Pharma).
Safety features :
No data loss after power failure, all data is saved in non-volatile memory.
Overvoltage protection of in- and outputs. Galvanic separation of measuring inputs and signal outputs.
Transmitter temperature monitoring with programmable high/low alarm limits.
1 Alarm relay :
One potential free contact for summary alarm indication for programmable alarm values and instrument errors.
Maximum load: 1A / 250 VAC
1 Input for potential-free contact.
Programmable hold or remote off func-tion.
2 Relay outputs :
Two potential-free contacts programma-ble as limit switches for measuring val-ues, controllers or timer with automatic hold function.
Rated load: 1A / 250 VAC
2 Signal outputs (3rd as option)
Two programmable signal outputs for measured values (freely scalable, linear or bilinear) or as continuous control out-puts (control parameters programmable)
Current loop: 0/4 - 20 mA
Maximum burden: 510 ?
1 Communication interface (option) :
RS232 interface for logger download to PC with Microsoft HyperTerminal or RS485 in-terface (galvanically separated) with Fieldbus protocol Modbus or Profibus DP.
Monitor Data :
*Sample conditions
Flow rate: 1 to 5 l/h
Temperature: 10 to 40 °C
Inlet pressureAbs. (25 °C): up to 1.5 bar with Pressure Regulator: up to 5 bar
Outlet pressure: pressure free
Conductivity: 0.055 to 2 µS/cm
Particle size: < 100 µm
No sand, no oil
*Sample connections
Sample inlet: Swagelok ¼" tube adapter
Sample outlet: G ½" adapter
for flexible tube Ø 20 x 15 mm
*Panel
Dimensions: 400 x 850 x 180 mm
Material: stainless steel
Total weight: 20 kg
Vendu par :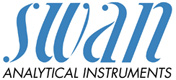 SWAN Instruments d'Analyses SARL
04 76 06 56 90
Posez une question sur le produit
Poser une question
Une question a été posée
- Le 15/01/2020
Pas encore de tutoriel sur ce produit
Autres produits de Swan
Retrouvez d'autres produits de Swan